挖到一重涂和改装强者
Jin-Saotome
先是被TFS水区上有人挖到他拿E威改造的G惊图震撼到
(之前我都没注意过这两只的相似之处我OTZ.不过,U婶,你啥时候能把审美观提高提高.老惊本来也很好看啊你为啥把它折腾成那样?)
一路追到DA
发现里面的作品全都强大
翻滚
当然最让R眼热想要扑住作者大腿蹭啊蹭(...)的就是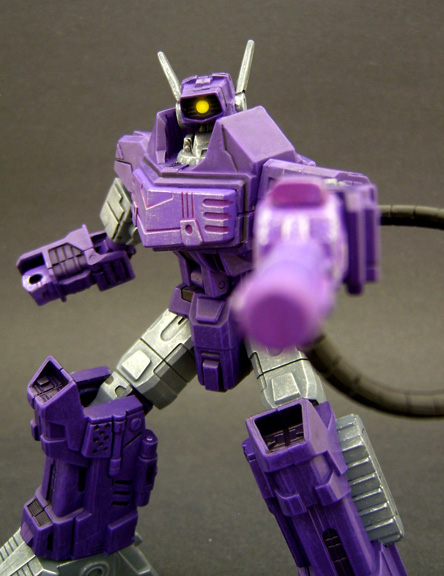 OTZ
FF上持续爬文中
Seek And Ye Shall Find
leftdio君翻译过的那篇
发现最萌的是这句||
"He came to see me, you know," Thundercracker said at length.
Skywarp glanced at him. "Starscream?"
Thundercracker shook his head. "Megatron. Wanted to know about Nightbird. How she looked, how she was acting, everything I could remember."
不要联系上下文.我单纯是喜欢TC说这话的方式...OTZ
当然,还有震荡波和老威的对话XD
"I am gratified to see you are still functioning, Shockwave," Megatron said sarcastically, "after being inundated by Autobot visitors. I trust the Decepticons are still in control of Cybertron?"
"Yes, Megatron," Shockwave replied, as usual making no acknowledgment that he had picked up on anything but Megatron's literal meaning. "I was surprised by the Autobots' arrival, yet they left the premises without causing any damage to the space bridge itself."
"Am I to assume you escorted them to a cell?" Megatron asked.
"Negative. The Autobots resisted capture. They appear to have used a jamming device to block my control of the bridge portal. I have already reprogrammed the system to prevent anything similar occurring again."
"That is of no use to us now," Megatron said. "Have you any idea where the Autobots went?"
"Also negative. I have dispatched a team of sentinels to search the immediate vicinity but with most of Cybertron still in stasis my surveillance capabilities are limited. I can initiate power restoration in selected sectors at your command."
"That will not be necessary," Megatron said. "The Autobots will have rejoined their Cybertronian allies. They know how to evade the sentinels and all other automated security devices. A more flexible approach is called for."
"I await your orders," Shockwave said.
莫名其妙我便看到了暗潮汹涌
笑